I'm looking forward to Fall & Holiday Mini Sessions for 2020 and cannot wait to photograph your family. You will find details below for each type of session. Then, click the link to BOOK at the bottom of the post to choose your date and secure your spot.
All sessions* take place at Chelsea Lietz Photography Studio where I have a professional studio and a nice outdoor location. This is in San Antonio, but near Bulverde and just off of Hwy 281. *hunting/fishing minis take place nearby on the old studio property.
Indoors, the photographer will always wear a mask. Outdoors, a mask will be worn if I come closer than 6 feet.
Should Chelsea Lietz Photography be required to close or be unable to complete the sessions due to Covid-19, you may request a refund or apply your credit toward any future session.
Mini Sessions are 15 minutes long and include a proof gallery of edited images. From this online gallery, you can download 3 high-resolution images of your choice. You get a print release and can use the images for Holiday cards, making prints, posting on social media, etc. Additional digitals, prints, wall art, gifts, and albums are optional.
Outdoor sessions will be rescheduled in the event of bad weather. Sometimes the photographer needs to adjust sessions 10-20 minutes earlier or later to find the best light. This change would be made at least 24 hours in advance.

Outdoor Family Mini– SOLD OUT
Outdoor family minis take place just before sunset… this time of year that can be as late as 6:45pm or as early as 4pm after the time change. Offered on various dates in October and November.
You have a choice of no theme for classic fall family photos, or I am offering a simple, tasteful Christmas theme that hints at the Nativity but is not hokey or over-done. (photo examples of the Nativity coming soon). You can do the Christmas theme and photos with no theme in the same night! This gives you options. However, there is not time for a wardrobe change.
Family sessions are short and sweet but include family posed, family casual, each child individually, and sibling photos. Friendly family dogs are welcome if leashed.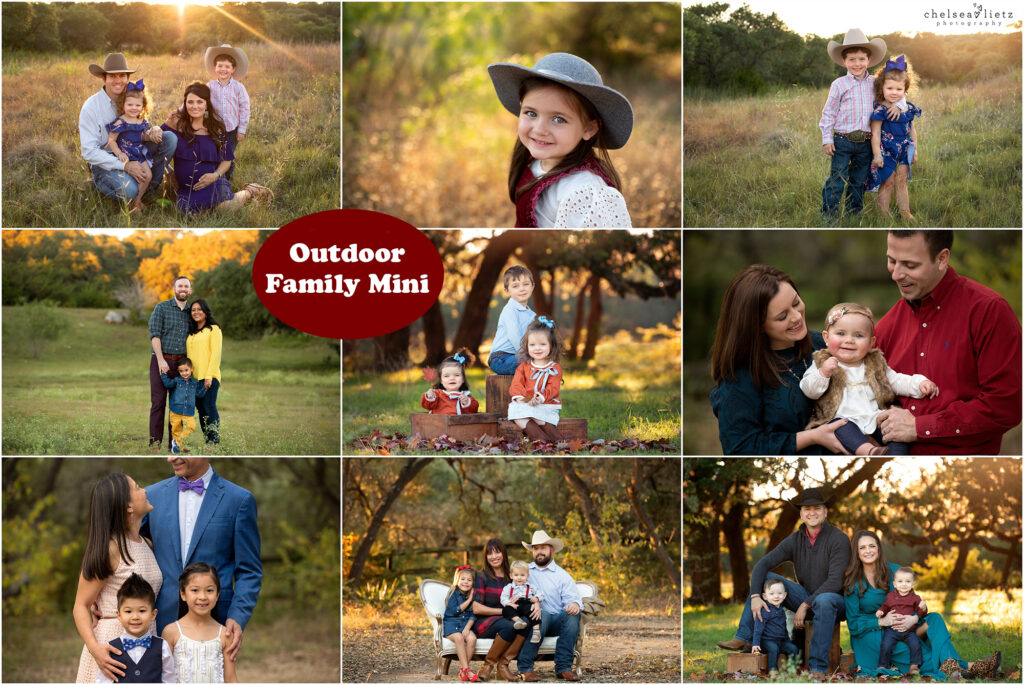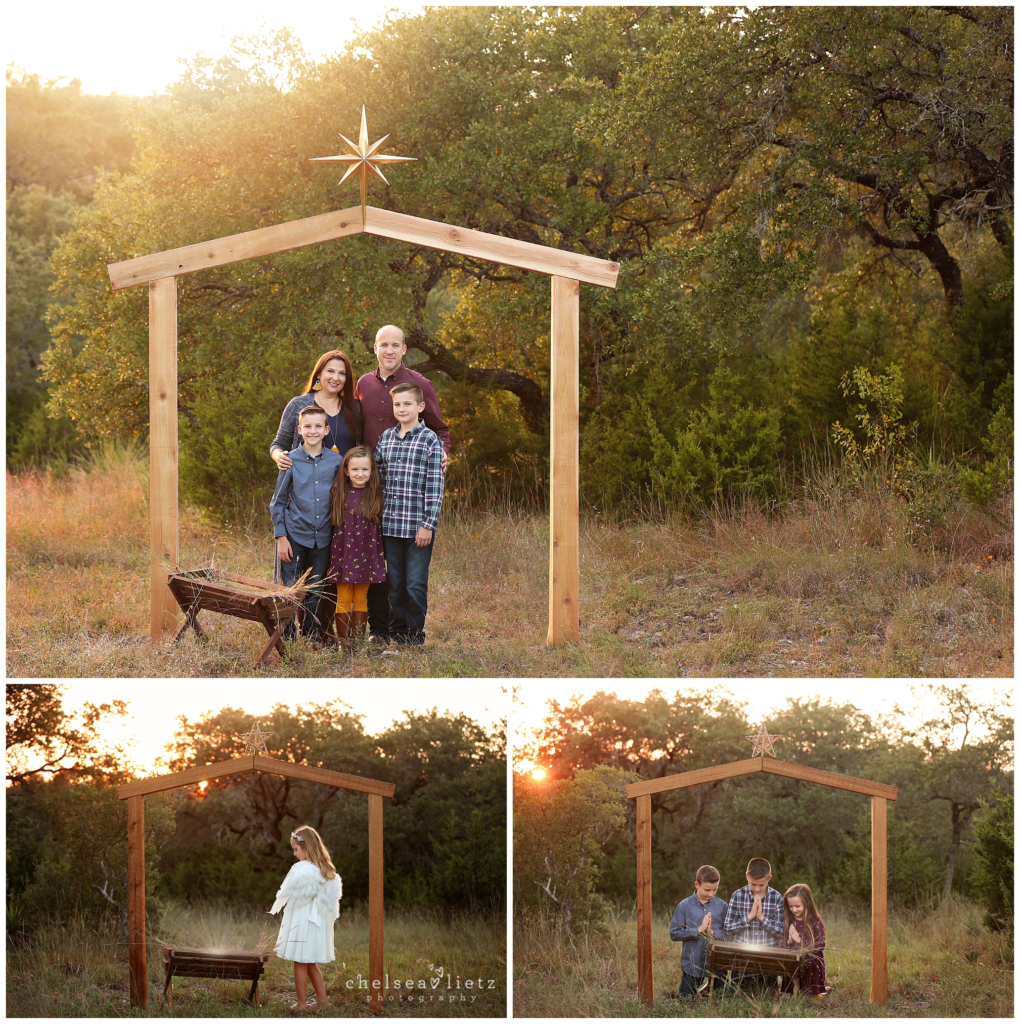 Outdoor Child Mini– SOLD OUT
Just like the outdoor family mini, but for children only. No theme, a child-sized nativity set, or both. (photo examples of the Nativity coming soon) Offered various dates in October and November.
Christmas Child Studio Mini
Christmas cheer for kids 12 and under. I will have the Christmas lights backdrop, digital Santa, and the rustic wood backdrop with all of my Holiday props and wardrobe out. Photographer will wear a mask and adults present are asked to as well. Offered November 28th and December 2nd.
Santa Studio Mini– SOLD OUT
A private chance for your child to spend time with Santa with a simple set-up in the studio. Santa will touch/hold your child as much or as a little as you wish. He will wear gloves but no mask. Photographer will wear a mask and adults present are asked to as well. I won't be able to provide a sample photo of this as Santa is only available for one day, so you'll have to trust me. 🙂 Offered November 7th only. SOLD OUT
Hunting Mini– SOLD OUT
A fun outdoor shoot to celebrate your love for hunting. These sessions take place in Bulverde on the same property where my last studio was located. I am envisioning camo and hunter's orange for hunters. I have several props including a hunting blind, dove decoys, hunting paraphernalia, etc. but you are also welcome to bring any decoys, sheds, and gear that is personal and meaningful to you. Hunting dogs totally welcome! Dad is welcome to be in a few if you wish. (example photos of these adorable sessions coming Oct 1). Sessions offered November 6th and 8th. SOLD OUT/
Chelsea Lietz Photography specializes in newborn, baby, child and maternity photography in San Antonio, Texas and surrounding areas including but not limited to Stone Oak and New Braunfels. Fall & Holiday Mini Sessions 2020 Please "like" me on Facebook and Instagram.