One of my greatest pleasures this year has been working on my "deserving families" project.  Check out another session here.
The most recent family was such a pleasure to work with and has welcomed home boy- girl twins!  I knew when this family was nominated, that their story was important to tell. It is a story of water safety, loss, infertility, miscarriage, a crisis of faith, rainbow babies, and joy. Their story is "brutiful."  I know that it was hard for them to share, but this Mama showed unending strength, bravery, and love.
Here is their story, in Mama's word…
"Hi my name is Lindsey and I was one of the lucky families to be chosen for newborn pictures with Chelsea. I will admit as I sit here and type this it is a bit scary but I also hope that it will bring awareness to water safety.
When I was 16 years old I found out I was pregnant and I was terrified. I was a high school student with no job. I loved my boyfriend but he cheated on me and we soon parted ways. At 17 I delivered a beautiful healthy 8lb 4 oz baby boy that I name Bryce on July 7, 2001 at 5:41pm. Bryce changed my life in so many ways and made me love in a whole new way.
I graduated from high school early and went onto college. My amazing mother, father and grandparents helped me with everything we needed so I could be successful. I went to school during the day and worked at night. I eventually got a full time job and Bryce and I got our own apartment. I was so happy that I was 18 years old, a single mother and I was doing it! Bryce was a very happy and deeply loved little boy.
Every Wednesday night we gathered at my nanny and papa's house for family dinners and he was the star of the night. My family loved this little boy so much and we all acted like crazy fools dancing around the house, singing happy birthday when it was no one's birthday, letting him sing, playing outside, swinging in his chair, and playing with all his dinosaurs and cars. Bryce was the light in everyone's eyes. My son loved everyone and would talk to anyone he came in contact with.
On August 18, 2004 my mom called and Bryce was crying about wanting a bath. I got off the phone with her and started his bath water with his bubbles and all his toys. My son had just turned 3 a few weeks before. Bryce crawled in and I kept cleaning up my kitchen in another room. I was cooking and cleaning at the same time. I had left him before so didn't think anything of it as I always called out to him and he always responded back and I would check in on him a lot. As I went to my bedroom to do something I saw his little naked butt run to his bedroom I yelled "Bryce what are you doing?" He said "Mommy I'm getting more dinosaurs." I said "okay." Little did I know this would be the last time I would see him so happy. I heard him go back to the bathroom but never heard a thing. At this point I kept doing what I needed to and looking back now, I think more time went by then I realized.
I called out to him and there was no reply…this was not unusual as this had happened before. As I called out again and still no reply I went to check on him. Bryce was underwater with his eyes open. I panicked and pulled him out of the water and ran to my front door screaming for help. I managed to call 911 and started cpr. Bryce started throwing up and I thought that was a good thing little did I know it was just his food being pushed up from all the air I was breathing into him. I was crying and screaming for the ambulance to hurry up. They finally arrived and I ran with Bryce down the stairs to hand him off to them. They rushed him to the hospital and I followed in a separate ambulance as I was too frantic for them to let me go with him. I prayed all the way to the hospital out loud and cried saying how stupid I was for leaving him and I was a bad mom and all the other things that go along with blaming myself.
I finally got to the hospital which felt like an eternity. Bryce was hooked up to so many monitors and machines I was in shock. I asked the hospital to call my mom and fiancé at work to come as I had no words. As more and more family arrived I got more worried. After 24hrs the doctors told me Bryce had no brain activity. I made the hardest decision of my life and I told the doctors I was letting him go. I held him as he passed and I cried, screamed, and was so angry that God would take my baby from me. I was so angry with God I swore I would never have a relationship with him again. I was numb…I remember very little about the funeral but the one thing I do remember was the cloud in the sky that resembled the same one on his funeral program. That was Bryce's way of telling me he was okay.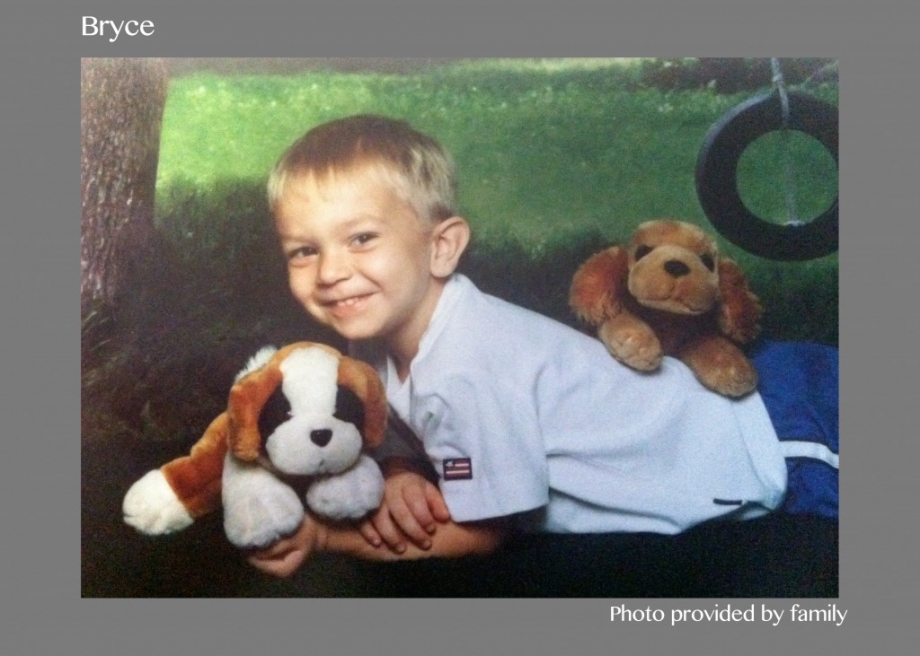 How would I go on without him? How would I go back to my apartment with all of his things? How would I go on never hearing his precious voice calling mommy? I hated myself just as much as I hated God at this time. In some weird way when I finally went home I felt a connection with Bryce. I laid in his firetruck bed for hours and just thought about all the good times we had together. I was severely angry and I was in destruction mode for about 3 years after his passing. I was drinking excessively and ruining relationships with longtime friends and my own fiancé because without my son, nothing mattered. Those that truly loved me I pushed away.  My fiancé Dustin didn't give up on me though. He stuck around even though I was acting crazy. I finally started coming around and trying to get my life back on track.
On September 20, 2008 we were married. Children were not an option so we didn't discuss it. Dustin and I bought a house and were doing great. He got a job with a fire department and I started doing pet sitting which I loved. Years passed and I started yearning to be a mom again even though I was scared. I had not been on birth control since we started dating in 2003, but I'd never gotten pregnant. I went back to a dark place again thinking God was punishing me. After seeing my obstetrician and getting negative after negative test I was angry yet again. We finally went to RMA of Texas in San Antonio to see what was going on. We discovered that with my pcos, thyroid issues, irregular cycles, and my husband's sperm shape and motility, we needed help. I was ready to be a mom but was God going to let me?
After several months of negative tests I finally went to my church and talked to my minister. Father Al told me it was okay to be mad at God that God can take it. He then told me when I was ready that I needed to ask God for forgiveness. I remember leaving the church thinking why do I need forgiveness? I soon realized that not only did I need to apologize for all the awful things I had said to God over the years but I also needed to forgive myself. I finally did this one night.
Things became so much clearer to me and a few months later we found out we were expecting a rainbow baby. A rainbow baby is a baby that comes after the loss of another child. God gave us a beautiful daughter on March 8, 2013 at 11:48am weighing 6lbs 13oz. We named her Paisley. God must have known I was not quite ready for a boy and blessed us with a girl. Paisley has been so healing for me but never a replacement of Bryce. My heart will forever ache and will always have a hole, but my pain is a bit less and the holidays are more enjoyable. Dustin and I had 3 embryos left and we made the decision to implant one more. We found out we were expecting again and were so happy. That happiness turned to sadness when we went for multiple ultrasounds and had no heartbeat. At 10 weeks I had a miscarriage at home while my daughter slept and my husband was at work. After all these injections, medications, and medical tests I was just done! I cried and told my husband I couldn't go through all of this again.
Eventually, we made the decision to put in our last 2 embryos and see what happened. After a long 14 day wait… omg we are having twins! We were so scared and excited all at once. My pregnancy went great I was feeling tired but hey I was carrying 2 babies and chasing a 2 year old, I was entitled to be! Then we went in for the genders ultrasound and we were so excited. We found out we were having a girl and a boy! I was terrified thinking I would love him more than my girls, or favor him more than the girls. Everyone told me I was crazy and was a great mother and would never do that. I hoped they were right.
We already had our boy named (Dalton) picked as my favorite movie was Roadhouse with Patrick Swayze and my sons middle name is after my papa which is Oliver. I really loved Presley but my husband was not a fan and suggested we name her to remember Bryce. I came up with Bryley and we instantly fell in love.  My c section was originally scheduled for Bryce's 14th birthday. But on June 19th at 9:56am Dalton arrived at 4lbs 13oz and at 9:59am Bryley welcomed us weighing 4lbs 9oz. Both were taken to nicu immediately. After an 11 day stay we were all home together as a family.
We are now complete as a family and I couldn't be happier. I also am happy to say I love all my children equally and have not favored one over the other in anyway. Guess my family and friends were right. My Bryce is with me every day and I know he watches over his brothers and sisters. I think of him constantly and wonder how tall he would be and what he would look like. I miss his voice, hugs, smiles, personality, kisses, and overall love. I know one day I will be with him again and this is the hope I hold on to.
I can honestly tell you that yes as time has gone by my pain has lessened but I can also tell you I have never fully dealt with the loss. My way of coping is not going to his grave site as it is too real. I also have my brain trained to think he has been on a very long vacation. Everyone has to deal with things in their own way and this is how I deal with mine. Before I got pregnant with the twins I started teaching swim lessons to children ages 6 months through age 8 and teaching parents the importance of water safety. Water safety is so important whether it be a pool or a bath tub. I lost a lot of friends after the death of my son. People can be cruel and say some very mean and hurtful things. I know I made a mistake by leaving my 3 year old alone. I still to this day blame myself and will never fully recover from this but the negative comments do not help the situation nor will it change the outcome. All this does is puts me back to a dark place that I wish not to revisit. As you read my story I hope this helps others that have suffered a loss or infertility struggle. I am a mother to an angel and my Bryce will never be forgotten."
Dalton & Bryley, you have a very brave Mama.  God bless all of you.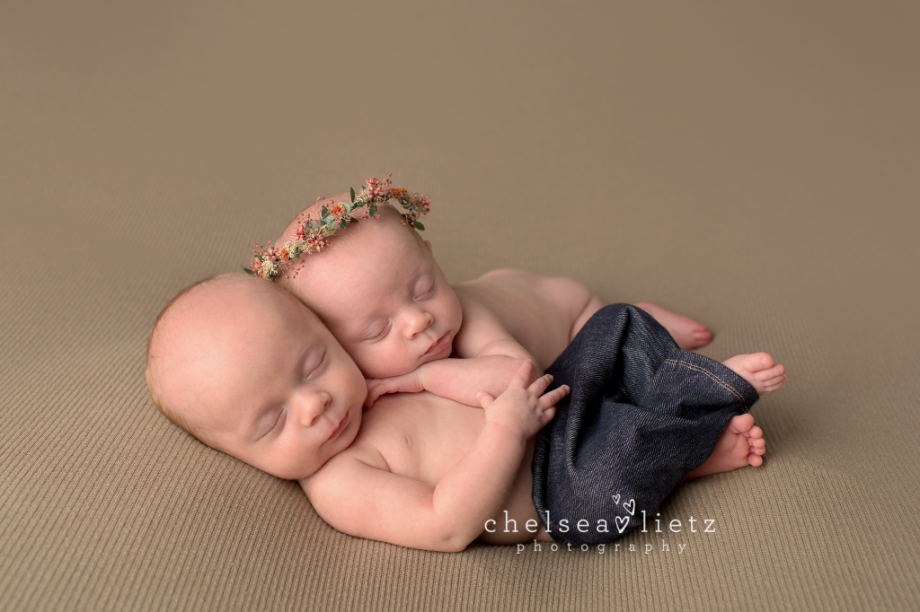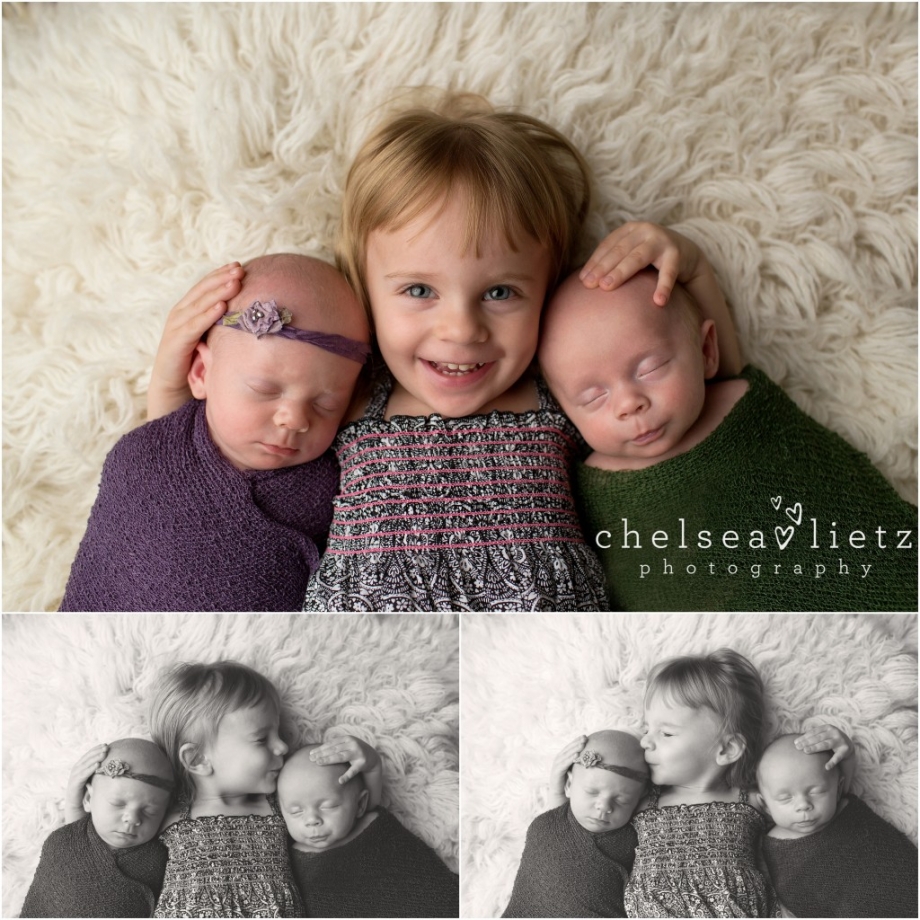 Chelsea Lietz Photography specializes in newborn, baby, child and maternity photography in San Antonio, Texas and surrounding areas including but not limited to Stone Oak and New Braunfels. Twin Newborn Baby Photos in San Antonio.  Please "like" me on Facebook.