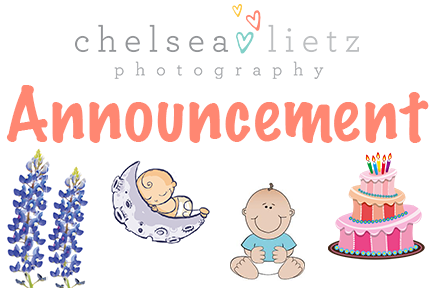 Spring is approaching and that means another busy season for photographers!  Please read through the announcements below for updates, suggestions, and upcoming events.
I am fully booked through the end of March. 
There is no availability at all. If you have already submitted your contract, your session is secure.
I am accepting sessions for April and beyond.
Babies enrolled in the belly to birthday package get first dibs on booking.  PLEASE email me today to book well in advance!  ChelseaLietz@gmail(dot)com  Your milestone sessions can be booked months ahead of time and then adjusted if needed if baby is not yet sitting up well, etc.
I will be offering Bluebonnet sessions again this Spring.
They will be between March 20th and April 12th, depending on the blooms. This announcement and all details will be shared on my facebook page in March. To make sure you don't miss it, you can go to my CLP page, and under LIKE, check "Get Notifications."
All galleries more than 365 days old will be purged in April due to space constraints.
If you have any ordering to do, please do so!  Email me if you need help finding your gallery.
I am not currently booking family sessions.  At all.  I can recommend Mint to Be Mine Photography.  They also rock maternity if I don't have availability for you.
I am not currently booking senior sessions.  I can recommend Christina Ramirez Photography.
NEWBORNS- Parents who have submitted contracts, please try to contact me before your baby is 4 days old to schedule your session.  The sooner you contact me, the more scheduling options you have.
Parents wishing to book newborn sessions, it is never too early!  As long as you are beyond 12 weeks, you can submit your contract and get on my calendar.
MILESTONE BABIES- Book well in advance!  I can't stress this enough.
Thank you!  I can't wait to see you in front of my lens in 2015.
Chelsea
Chelsea Lietz Photography specializes in newborn, baby, child and maternity photography in San Antonio, Texas and surrounding areas including but not limited to Stone Oak and New Braunfels.  San Antonio Photographer.